Also known as Kandala Gray and Kandhla grey, this grey Indian Sandstone comes in a mix of light blues and tender greys that brightens dark areas and is an ideal Indian sandstone paving choice. It is a go-to product that offers a perfect equilibrium of traditional and contemporary design with its consistent color. The naturally riven surface detail of this hard-wearing Kandla Grey Indian Sandstone requires minimal maintenance and adds a comfortable and peaceful feel to traditional and modern designs. Kandla Grey Sandstone Paving is expected to last even in harsh weather and is best suited to the British climate.
Brief about Sandstone
Natural Sandstone is tough and rigid, each stone having a different level of porosity, hardness, and compressive strength.
The above physical properties make these sandstones ideal for interior and exterior designing, such as flooring, paving, wall cladding, and molding Sandstone into beautiful artifacts.
Natural sandstones are fashionably accepted because of their brilliant features like high tensile strength and low maintenance in terms of paint or whitewash.
Natural Sandstone compliments traditional and modern designs, whereas the unique combination of color and texture gives an ageless yet contemporary touch.
Indian Sandstone is highly versatile as it can be sawed, honed, polished, sandblasted, shot blasted, and brushed for flooring and walling.
Various forms of Sandstone available are:
Sandstone blocks
Sandstone slabs
Sandstone tiles
Sandstone cobbles
Sandstone pebbles
Sandstone strips
Sandstone bricks
Flagstones
Stepping stones
Kandla Grey Indian Sandstone – a versatile stone in grey
If you are thinking about a versatile sandstone apt for outdoor home décor and construction needs, Kandla gray sandstone is the one-stop answer to all such related needs. A gray-colored hard-wearing Indian stone having a visual consistency can create attractive exteriors and interiors and can enlighten any dark outdoor space.
This unique stone's physical and chemical composition and properties listed above make it suitable for gardening areas, pathways, patios, or poolside. The riven surface texture of this grey Indian Sandstone paving will help retain grip underfoot. Also, being frost-resistant helps keep your paving looking good as new throughout the year. Each sandstone slab can be further hand-dressed across edges, which adds to the natural look and feel of the riven Sandstone paving to create an ageless appeal to any traditional design.
When chiseled and dressed into a smooth surface, this stone product quickly gets a unique shape per the customer's requirement. It can be carved into shapes like beams, pillars, arches, doors, window sills, wall facings, fence posts, millstone, etc. This Indian Natural Sandstone is ideal for constructing any building near the seashore as these were formed in similar conditions.
Here are some facts that make this stone a special one
Original name
Kandla Grey Sandstone
Color
Grey or Gray
Sandstone Origin place
Bhilwara, Rajasthan, India
Recommended Usage
Outdoor industrial and home decor
Offered in Stone forms
Cobbles, steps, palisades, tiles, slabs, wall cladding, step blocks and, mixed sized pavers
Unique attributes
Excellent surface finish, Smooth edges, Enchanting colors, Sturdy construction, and long service life
Finishing Surface specialty
Natural calibrated machine cut and hand-cut
Natural + brushed machine cut and hand-cut
Natural + brushed calibrated machine cut and hand-cut tumbled
Honed calibrated machine cut and hand-cut
Honed +sandblasted calibrated machine cut and hand-cut
Bush hammered calibrated machine cut
Additional Names
Grey quartzite, Kandala gray sandstone, Kandhla grey sandstone, grey Indian Sandstone, Budhpura grey Sandstone, Bhilwara grey sandstone, Bundi grey sandstone, Bundi sandstone, and Bhilwara sandstone.
Sandstone Calibration information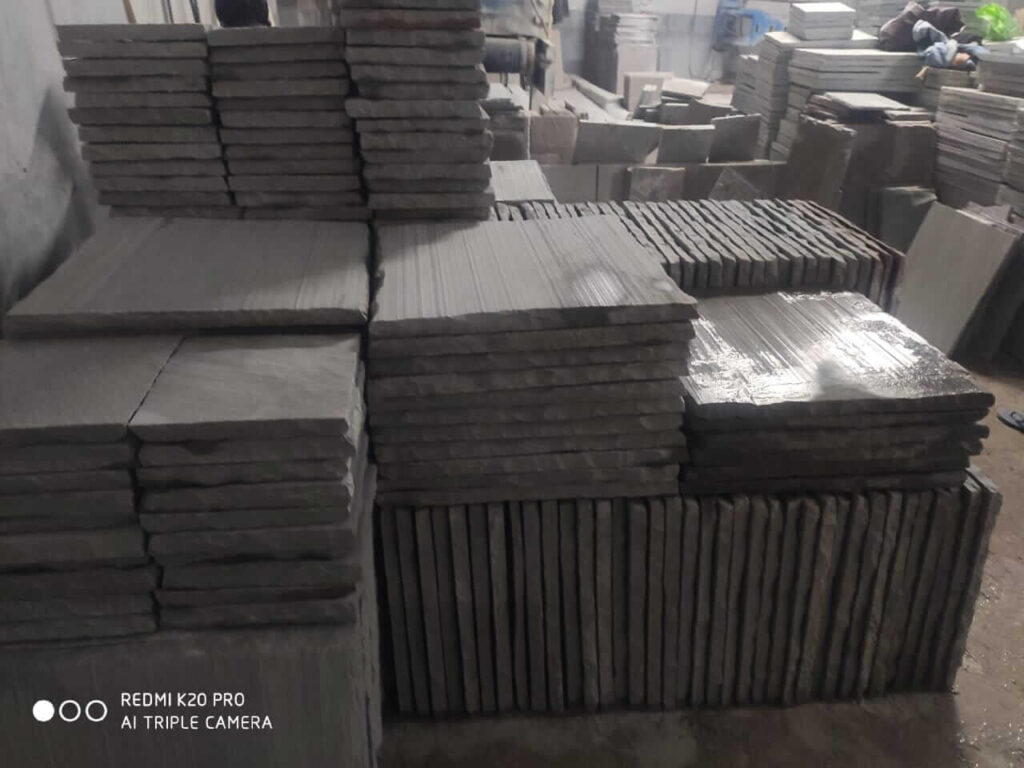 Kandla grey is available in both calibrated and uncalibrated thickness. Kandla Grey Indian Sandstone paving slabs patio packs 22mm calibrated are among the most popular and hot selling paving stone slabs and are readily available with Runjhun export
Sandstone Global market requirements
Both north and south India have an abundance of Indian Natural stones, making Indian a massive market of natural stone's requirements linked to production, export, and marketing. Our country also has a variety of Sandstone that differ in terms of color and appearance. In the category of grey tone, Kandla grey sandstone product is being exported to the Western countries in a large quantity. People and organizations associated with huge construction projects opt for this Sandstone product in various finishes and sizes. B2B buyers buy Indian stone in bulk from Indian sandstone suppliers, and B2C buyers get Indian stone products per their requirements.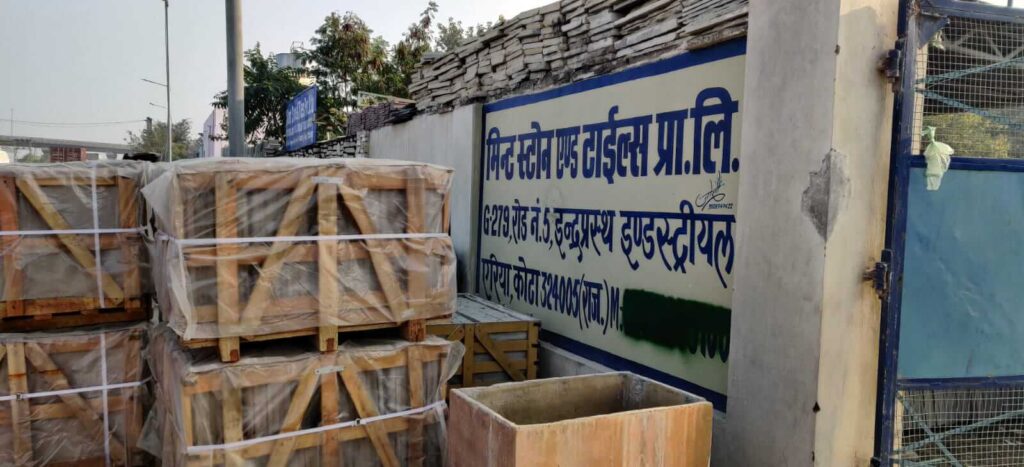 Sandstone sizes in various forms
Quarried from Bhilwara, Rajasthan, India, and processed at one of our self-owned stone processing units, we offer top-quality stone output. Below are the sizes which are offered in various stone forms. These can be customized as per the customer's requirements.
Tiles: 30 x 30, 60 x 30, 60 x 60 and 60 x 90 cm – Width and thickness 2 cm, 3 cm, 4 cm, 5 cm or 6 cm.
Slabs: 120-300cm x 60-150 cm with width thickness 2 cm, 3 cm, 4 cm, 5 cm or 6 cm.
Palisades: 10-12 x 12-25 x 30-250 cm
Wall cladding: 100 x 25-45 x 5 cm
Step Blocks: 75-200 x 35 x 15 cm
Floor plates, facing bricks, wall stones, skirting stone and cobblestones: Customized solutions
Patio packs mixed size : 60×90, 60×60, 60×30, 30×30, 60×40 and, 40×40 ( customized sizes also available)
About us
Runjhun Export is one of the Indian natural Sandstone's leading manufacturers, suppliers, and exporters, offering the grey-color Sandstone in finishes like honed, polished, bush-hammered, tumbled, brushed, sandblasted, hand-cut, or hand-dressed, and sawn. We have been exporting Indian stone products to all parts of the world, and with a multi-location presence, it gets easier to serve new B2B customers. This grey sandstone is offered in customized thicknesses, sizes, and shapes per the customer's requirements. Either you are searching for Kandla grey sandstone for paving or grey Sandstone paving slabs, visit us at https://runjhunexport.com and share your rough requirements. Our team will be happy to get back to you in a jiffy.